Get Leaner While Learning Effective Striking Techniques With Cardio Kickboxing Classes
You will get into serious shape fast with our Combat Fit classes at Urban Roots Self Defense. Using high-intensity cardio kickboxing combinations together with interval training, our Combat Fit students keep their heart rates up to burn hundreds of calories while building lean and toned muscle.
Men and women of all ages and experience levels come to these classes to take their fitness training to the next level.
Learn Powerful Striking Combinations
In our Combat Fit class, you will not only build a strong cardiovascular system and toned muscle, but you will learn:
Straight kicks, round kicks, sidekicks and other lower body combatives
Proper punching techniques
Learn efficient striking combinations that will improve your striking foundation for the Krav Maga classes
Try It Out Today!
Enjoy Added Benefits Away From The Gym
Stressful week at the office? What better way to let it go than with an hour-long Combat Fit session in a room full of good friends? Working out regularly is proven to be an effective stress reliever and at Urban Roots, we're here to help you leave those stresses at the door.
After just a few Cardio Kickboxing sessions you'll begin to notice:
Increased energy in your daily life
Improved physical stamina
More restful sleep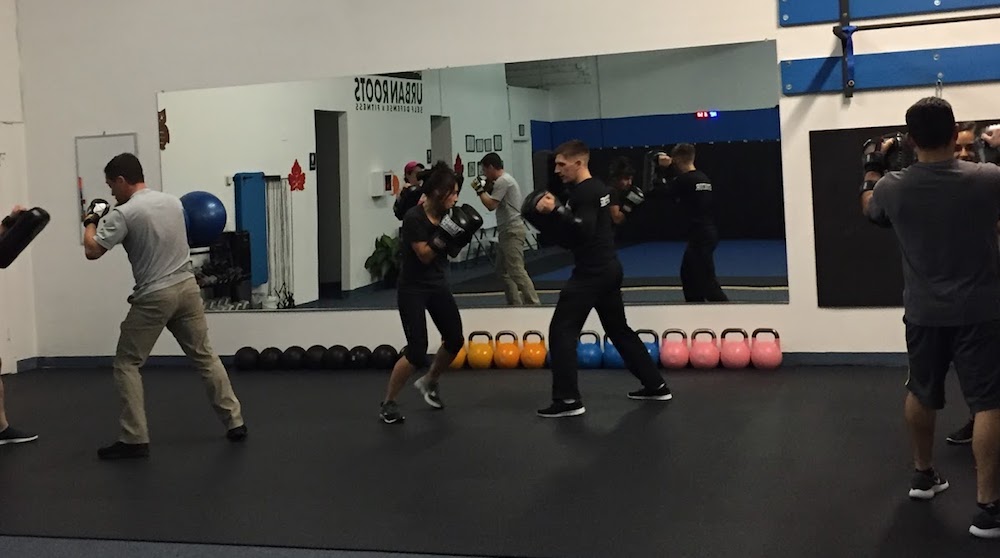 Get Started Today - Sign Up Now!
Bring some excitement back to your gym routine with Combat Fit at Urban Roots Self Defense. Simply fill out the form to the right for more information and we'll take it from there!